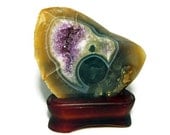 This beautiful rock specimen, with the wooden base, measures 5.25" high x 4.5" wide. It is made of agate, with some purple amethyst crystals.
This beautiful piece would be beautiful on an office desk or anywhere in the home. It makes a great gift for Dad, Grandpa, or someone who you just can't figure out what gift to give to.
Click Here to Visit My Etsy Shop!