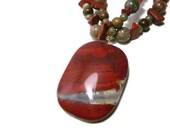 This beautiful necklace features natural autumn jasper and red jasper stone, as well as wood accent beads. 18" long. The pendant is 30x40mm, and the clasp is gold plated.
Jasper is considered to have protective energies for its wearer, and is a very 'grounding' stone, helping keep its wearer stable and down to earth.
Ships to US, UK, Australia, Canada and New Zealand.
Click Here to Visit My Etsy Shop!