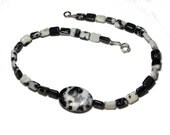 Named for its exotic black and white patterns, zebra stone is an onyx marble. It is also sometimes called Mexican zebra stone because major deposits are found in Mexico.
Zebra stone is thought to help its wearer see past illusions.
16", with silver plated spring ring clasp.
Click Here to Visit My Etsy Shop!