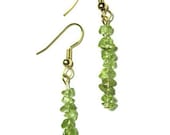 Genuine untreated glowing green peridot mini chips on gold plated earwires. 2" long from top to bottom, 1/3" wide.
Peridot is the birthstone for the month of August. Cleopatra was known to have worn peridot. Peridot is also thought to protect its wearer from the evil eye.
Click Here to Visit My Etsy Shop!