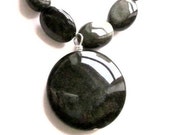 Beautiful, glossy black obsidian necklace with natural golden shimmering reflections shown at varying angles. Golden sheen obsidian is volcanic glass, naturally formed when volcanic lava cools quickly. Air bubbles are periodically trapped inside the layers during the cooling process, creating the 'shimmery' golden sheen effect.
Nice 'birthday present for her', gift for mom, or Christma...
Click Here to Visit My Etsy Shop!