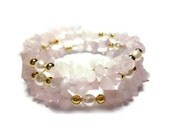 Romantic natural Rose Quartz chips, freshwater pearls and gold plated accent beads are strung on gold plated stainless steel coil, which holds its round shape. 2.5" in diameter, 7/8" wide, with chip beads 4-7mm in size.
This gemstone has been traced back as early as 7000 B.C. in Mesopotamia, where it was known to be formed as beads. Rose Quartz is also South Dakota's state mineral.
...
Click Here to Visit My Etsy Shop!