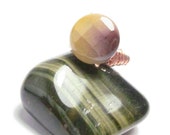 Moukaite jasper colors appear in a wide range of warm earthy tones including brick red, cream, brown, gold and mauve. Moukaite (MOO-ka-ite) stone is located in Australia and is named after Mooka Station, a 250,000 km sheep farm located there.
Wearing moukaite is said to encourage the desire for new experiences and to impart a deep calm while at the same time encouraging flexibility and adventurousness....
Click Here to Visit My Etsy Shop!