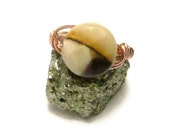 Moukaite jasper colors appear in a wide range of warm earthy tones including brick red, cream, brown, gold and mauve. Large deposits of Moukaite (MOO-ka-ite) stone are located in Australia. Mookaite is named after Mooka Station, a 250,000 km sheep farm located there. The stone bead is 12mm.
Ring is size 7-1/4.-
Click Here to Visit My Etsy Shop!